Solar Power Control Parking Space Lock
Product Detail
Product Tags
When the vehicle is about to arrive at the parking space, the vehicle owner uses the remote control to control the parking space lock, so that the parking space lock is lowered to the lowest position, and the vehicle can enter. To the protection state. When the vehicle leaves, the owner uses the remote control to press the down button of the remote control to lower the parking space lock to the lowest position. After the car leaves the parking space, the owner only needs to press the up button on the remote control, and the parking space lock can automatically rise to protection. State now. Can prevent other vehicles from occupying parking spaces!
1. Keep up with the concept of environmental development and protection, products are more environmentally friendly, and do not pollute the environment
2. Anti-collision locking, realizes complete anti-pressure, and cannot be forced into position.
3. It has a flexible non-reversing parking lock, and a spring is introduced to effectively alleviate accidental crashes. The flexible non-reversing parking lock is divided into two types: outer spring and inner spring: outer spring (rocker arm join spring): when subjected to strong external force The rocker arm can bend during impact and has elastic cushioning, which improves the "collision avoidance" performance. Inner spring (spring is added to the base): The rocker arm can be anti-collision and compression by 180° front and back. The built-in spring is difficult to depress. Advantages: It has elastic buffer when receiving external force, which greatly reduces the impact force, thereby reducing the damage to the parking lock.
1. Buzzing Alarm For Irregular Parking. Inner Intelligent Alarm System For Non-Controller Management Outer Crash.
2. Smooth paint surface, professional phosphating and anti-rust paint process, Rain resistant, sun resistant, corrosion resistant, high temperature resistant, high temperature lacquered steel plate.
3. IP67 waterproof level, double waterproof rubber sealing strip.
4.  Bearing capacity 5 tons, reinforced steel cover, bearing 5 tons.
5. Stable and convenient control, remote control distance up to 50 meters.

6.Factory direct sales, a large number of spot, to achieve fast delivery
7.CE and product test report certificate
1. Intelligent management of parking spaces in smart communities
The problem of difficult parking in residential quarters has become a major social phenomenon today. Old residential communities, large communities and other communities suffer from "difficult parking and chaotic parking" due to high parking demand and low parking space ratio; however, the use of residential parking spaces It presents tidal characteristics, and the problem of parking difficulty is obvious, but the actual utilization rate of parking space resources is low. Therefore, in combination with the concept of smart community construction, smart parking locks can give full play to its parking management and sharing functions, and intelligently transform and manage community parking spaces: based on its parking status detection and information reporting module, it is connected to the smart community platform management system to carry out parking spaces. Intelligent unified management and sharing of resources, and further rational use of temporary parking spaces around the community, effectively expanding the parking range of the community, so that more vehicles can say goodbye to the embarrassing situation of "one hard to find", and create a digital and tidy The community environment can effectively alleviate the conflicts in the neighborhood and completely solve the management pain points of the property company for the owner's vehicle.
2. [Commercial Building Intelligent Parking System]
Large-scale commercial plazas usually integrate shopping, leisure, entertainment, office, hotel and other functions, and are located in the central area of ​​the city. There is a large demand for parking and high mobility, but there are large loopholes in charging, high management costs, low efficiency, and management. Problems such as insufficient power. Improper management of the parking lot of the commercial square not only affects the use, management and operation of the parking lot itself, and makes it difficult to effectively use the parking resources of the parking lot, but also causes congestion on the surrounding municipal roads and reduces the safety and security of the urban transportation system. 
15 years of experience, professional technology and intimate after-sales service.
The factory area of 10000㎡+, to ensure punctual delivery.
Cooperated with more than 1,000 companies, serving projects in more than 50 countries.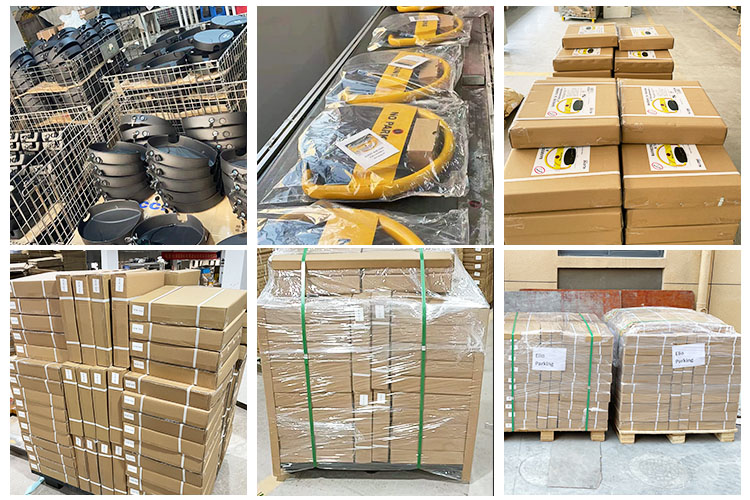 After strict quality inspection, each parking lock will be packaged separately in a bag, which contains instructions, keys, remote controls, batteries, etc., and then packaged independently in a carton, and finally packed into a container, using rope reinforcement
1. Q: Which Products Can You Provide?
A: Traffic safety and car parking equipments including10 categories, huandreds of  products.
2. Q:How could I get a sample?
A:Before we received the first order, please afford the sample cost and express fee. We will return the sample cost back to you within your first order.
3.Q: What's The Delivery Time?
A:We are a factory, we have a large stock of standard products, the fastest delivery time is 3-7 days.
4.Q: Are you trading company or manufacturer ?
A: We are factory, welcome your visit.
5.Q:Do you have agency for after-sales service?
A: Any question about delivery goods, you could find our sales anytime. For installation, we will offer instruction video to help and if you face any technical question, welcome to contact with us to have a face time to solve it.
6.Q:How to contact us ?
A: Please inquiry us if  you have any questions about our products~
You also can contact us by email at ricj@cd-ricj.com
---
Next:
China Competitive Price for 304 Customize Diameter Stainless Steel Bollard for Roadway Safety Items
---
Send your message to us:
Write your message here and send it to us